RL-400+SHR-4525Automatic L Sealer Shrink Packing Machine
RL-400+SHR-4525
Automatic L Sealer Shrink Packing Machine
Summary:RL-400 automatic heat shrink packing machine including automatic L bar sealer and shrink tunnel.
The machine maximum packing width is 350mm, maximum packing height 150mm.
Available connecting device:
1. Infeed conveyor before sealing machine and output conveyor after shrink tunnel.
2. Closing conveyor in sealing part for shorter size product.
3. Infeed conveyor with pusher or stacking device. (Products package like: cans/ bottles/ boxes/ 1*6, 2*5...)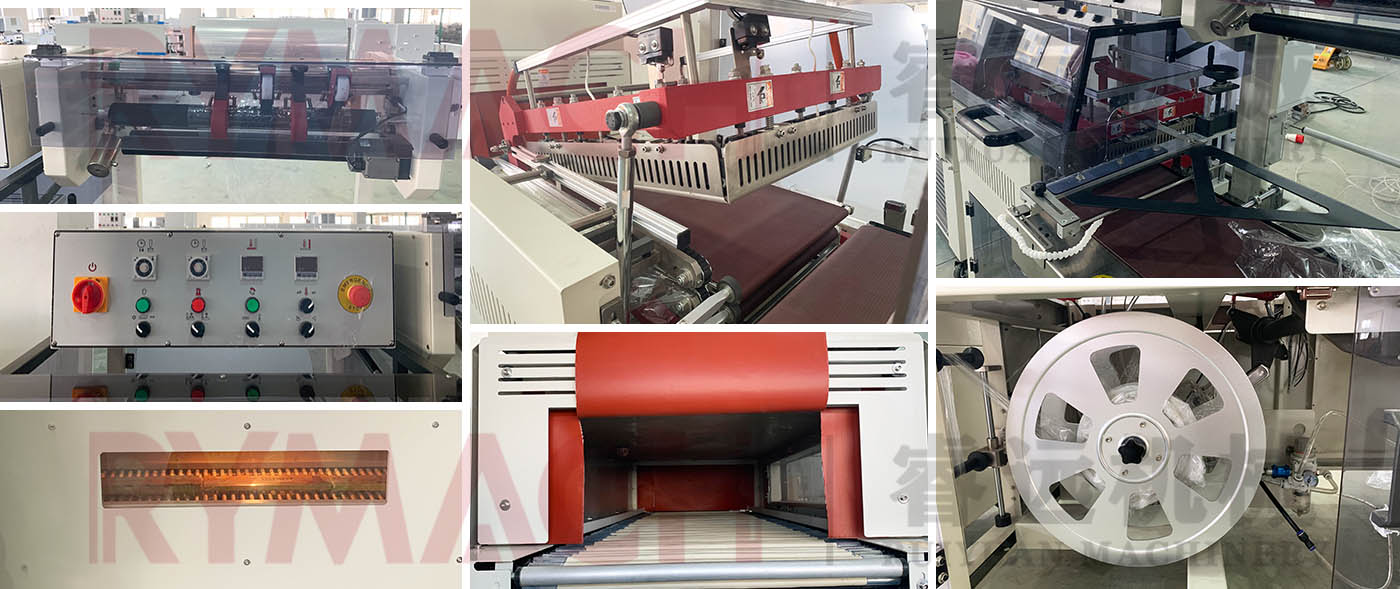 1. The sealing knife adopts tflon coated anti stick and high temperature resistant aluminum alloy integrated knife, which will not crack, coking, smoke and zero pollution
2. According to different products, it is equipped with two groups of imported photoelectric detection, one for horizontal and one for vertical detection, which is convenient for switching and selection. For thin and small packages, it is also easy to complete the sealing and packaging operation
3. Automatic feeding, and the length can also be adjusted automatically through the combination of electric eye and timer. Equipped with induction motor to automatically take up waste.
4. The original "Omron" digital display temperature controller with built-in PID function is adopted, and the knife sealing temperature is extremely sensitive and accurate, which can be set at will. There is no need to worry that the inaccurate temperature will damage the product and seal the knife itself
It also has automatic protection function to effectively prevent accidental cutting of packaging, and has automatic alarm function to greatly improve the safety of operators.
5. The whole set of machine truly realizes the unmanned operation connection with the production line. The specially designed film up and down synchronization mechanism corrects the deviation of the film.
6. The machine can be equipped with feeding conveyor belt, and different feeding conveyor belts can be equipped according to different product packaging methods.
7. The heat shrinkable machine adopts high-power double blowing, frequency conversion to adjust the wind force, and has a visual window to observe the heat shrinkable effect of the product at any time.
Model
RL-400 Automatic L Sealing Machine

Sealing type
L type

Power supply
380V/50-60HZ/3Phase (Customized)

Power comsuption
2 KW

Packing speed
20-35 packs

/ minute



Packing height
150MM

Packing width
350MM

Packing size limit

Width + Height

≤

400mm; Width

+ Length

≤

450mm



Film type
Center folded POF film
Maximum film size
530MM (Width

) X 280MM (Outer diameter

)



Sealing machine dimension
1810 X 1000 X 1530 MM

Machine material
Carbon steel
Model
SHR-4520 Shrink Tunnel

Shrink oven dimension
1500 (L), Entrance 450(W) X 200(H) MM

Tunnel conveyor speed
Variable, 40 M/Min

Tunnel conveyor
Chains with rotating silicon coated rods

Power supply
380V/50-60HZ/3Phase (Customized)

Power comsuption
7 KW

Tunnel material
Carbon steel
Tunnel dimension
1800 X 700 X 1300 MM