RS-720Automatic High Speed Shrink Packing Machine
RS-720
Automatic High Speed Shrink Packing Machine
Summary:RS-720 model is designed and manufactured on the basis of the original foreign equipment, with reasonable mechanism, stable and reliable operation and high yield. It is especially suitable for connection with the production line; Save packaging materials.

Packaging materials: POF single film packaging materials with heat shrinkability optional devices: hot melt code printer, double reel device, automatic feeding device, longitudinal sealing cooling device. Longitudinal sealing form, trimming sealing.

Applicable to: articles packed with shrink film. Such as: bowl noodles, milk tea, cup products, frozen products, vermicelli, fruit milk, mosquito repellent incense, food boxes, cosmetics, clinker bottles, incense and other single or collective shrink packaging.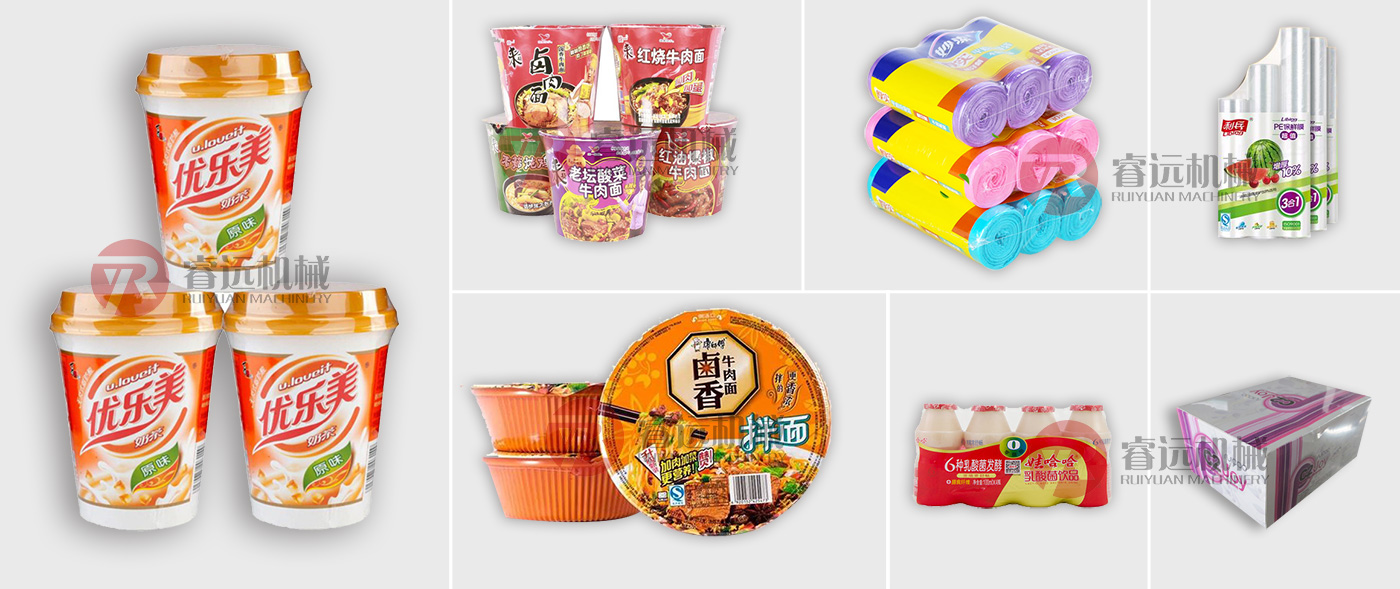 Working principle and structural features of the unit:
The articles packed with film are sent to the automatic shrinkage furnace through the output conveyor and run in the shrinkage furnace through the mesh belt. The thermal energy utility in the operation process is to achieve the purpose of shrinkage. The unit adopts stepless speed regulation device; And cooperate with automatic double temperature controller to control the temperature,

Through hot air circulation, the quality of film shrinkage on packaging articles is more stable and beautiful. The unit has high equipment efficiency, compact structure, reliable operation, low noise and convenient maintenance.

Performance characteristics:
1. PLC control is adopted to make the system more stable, reliable and low failure rate
2. Digital display bag length, speed and temperature can be adjusted separately, which is convenient and accurate.
3. Two way tracking to make the pattern sealing and cutting accurate.
4. Position the parking and longitudinal seal automatic opening and closing device to ensure that the film is not damaged.

Optional devices:
1. Date printer
2. Automatic bottle sorting machine
3. Automatic feeder
4. Automatic grouping device

Model

RS-720

Sealing type

Bottom + Top

Maximum film size

≤720mm

Packing size

Height

H:5mm-50mm

H:50MM-120MM

Width

W:10mm-200mm

Length

L:60mm-450mm

Product size limit

(Width + Height)*2+100mm≤720mm

Film type

Single layer POF film

Power supply

Sealing machine

Single phase; 220V/50Hz

Shrink tunnel

Three phase; 380V/50Hz

Power consumption

Sealing machine

4.5KW

Shrink tunnel

16KW

Machine dimension

Sealing machine:4930*1130*1500mm

Shrink tunnel:2400*600*1550

Machine weight

Sealing machine:1000KG

Shrink tunnel:600KG

Machine material

Carbon steel